It was a wonderful afternoon on Feb 13th 2017 when Mastishk, the epilepsy and stroke support group, was inaugurated amidst august presence of renowned neurologist/neurosurgeons and eminent doctors of KIMS. This day was chosen for this inauguration to coincide with the International Epilepsy Day.
It was for the first time in my life that I was among some accomplished doctors and the persons with epilepsy, their family and care takers. It was amazing to find the way the doctors were interacting with people, patiently listening to their problems and counselling them as if they would do to their near and dear ones. It made me realize how noble the doctor profession is. Kudos!!! to the doctors who are doing such a wonderful job and making big difference in the lives of affected families.
Earlier in the day, there was a painting competition conducted for the persons with epilepsy in different age groups. I was invited to adjudge the best painting among them. It was a challenge to pick a winners each one of them had transformed their imagination on the paper in such an excellent fashion. It was unbelievable that the paintings were actually done by someone with epilepsy or stroke. They had depicted their feelings so nicely which only proved that they think and act like normal persons and that epilepsy is indeed not necessarily a disqualifying disability. Most of them in their paintings had equalled their doctors to their mother which only showed the care these doctors are giving to them.
Before the inauguration of the Mastishk group, some people with epilepsy and their family members talked about their experiences. It was extremely touching to listen to them and know about their difficult times and how they bravely faced it. While some had to go through financial difficulties, others had society issues related to school admission, pursuing career, marriage, etc. Listening to them only strengthened our resolve and made us realize that there is an urgent need to provide help to these people beyond hospital services and educate them so that they are empowered. It was clear to us that there is a need to educate the society at large about this health condition to eradicate the misconception that exists around it.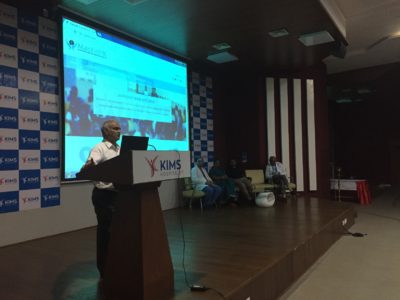 Mastishk was inaugurated Dr. Bhaskar Rao, CEO, KIMS. He released the official website of Mastishk to public. In his speech he appreciated the doctors for their relentless service and also thanked Cadsys for coming forward to be part of this initiative. He said he will replicate similar support groups in other medical departments of his hospital as every health condition needs such support.
Mr. Harish, Managing Director of CADSYS also spoke on the occasion. He said that Mastishk will support persons with epilepsy and stroke based on merit and not by compassion. Its only goal is to empower them and work towards eliminating social stigma attached to this health condition. It was extremely inspiring when he quoted names of Albert Einstein, Socrates, Jonty Rhodes, Tony Greg and others who had epilepsy in their childhood but went on to become famous personalities.
All in all the inauguration function was an eye opener for lot of us who are non-doctors. It only increased our resolve to support persons with epilepsy and stroke through Mastishk.
What a day it was for group of employees and the management from CADSYS India Limited to make a resolve to support persons with epilepsy and stroke
I should say that the importance of care and support needed for well being of persons with this health condition was actually demonstrated through their actions by the doctors.